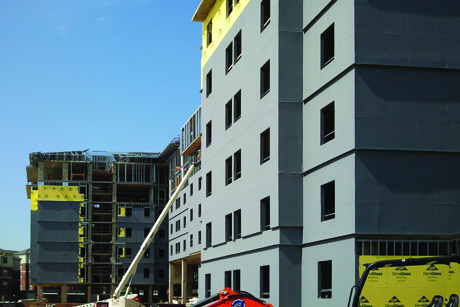 Photo credit: BASF Corporation – Wall Systems
Attention Architecture and Construction Friends! I am happy to share more information about one of BASF's most successful webinar series. On January 16th at 3pm EST, my colleagues Tug Ferguson and Rodger Hongisto will present a FREE webinar about Fluid-Applied Air, Vapor and Water-Resistant Barriers. Space is limited, and usually fills up quickly,  so I recommend signing up today.
Click here to register—-> http://goo.gl/XTZkoD
The presentation is a one hour AIA registered program on the function and specification of Fluid Applied Air, Vapor and Water Resistant Barriers. Topics you will learn include:
– The role of barriers in building envelope performance
– Methods of evaluating air/water-resistive barrier material and assembly performance
– How to treat rough openings using fluid-applied air barrier systems
– What to require in a performance-based fluid-applied air barrier material specification
Additionally, they will discuss fire performance requirements including testing in accordance to NFPA 285.
This program qualifies for 1.0 Sustainable Design (LU/HSW) Credit.
This is great information and we typically have a lively crowd.
If you have any questions about the webinar, feel free to leave a comment or message me directly.
If you want to learn more about Enershield and other BASF Wall Systems' products, visit the website at www.wallsystems.basf.com

 Photo credit: BASF Corporation – Wall Systems