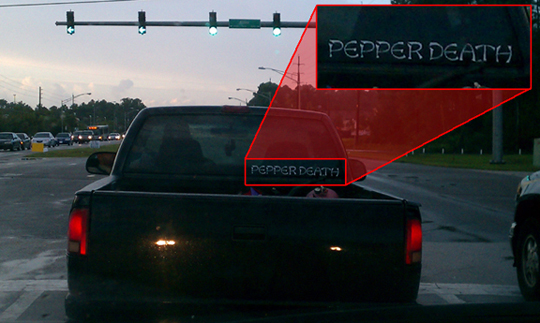 So as I drove into work today, I saw something that put a smile on my face. I saw a decal for "Pepper Death." It took me a second to process what this was, and then "click", the light went on. It's not that I think the decal or design is awe inspiring.  I like what it represents. A response to the much beloved (not by me) local brand, Salt Life.
For years I have seen the growth of Salt life. While I'm happy that a local company has continued to grow and what they represent, I don't think much of the design. Conceptually, I assume that the typography is meant to represent the remnants of a wave. While each of us has our own aesthetic experience, it has always bothered me. Although it is original,  I find it an incohesive assortment of scribbled mush. If that isn't bad enough, I have seen permutations of this "design" popping up for the past 7 years or so. If I consider the original weak, you can only imagine my feelings on the copycats.
I guess what has perplexed me most over the years is why it has had mass appeal. I knew things were out of control when my very conservative neighbor placed a decal on her minivan. When I approached her and asked why she purchased it,

she responded that she has seen so many others with it and that it was "cool." When I challenged her on what was "cool" about it, she said "I don't know…it just is."
As a designer, that comment intrigues me. I wonder why this brand has grown. Is it the simple nature of people wanting to follow? Is it the fact that they did a great job of guerilla marketing? Yes, ten years ago, their decals were tagging everything in sight. Is it that people truly love the design and are inspired about what it represents? Or is it simply that they have selected some of the sexiest local models to promote their gear?
I'm not sure, maybe one day I will be enlightened.